30 avril 2008
3
30
/

04
/

avril
/

2008
00:00
Cuarta edición para el SALPIN que magistralmente organiza Cashotte. Como en ocasiones anteriores, me he decantado por un pinkeep, ya que van a ir perfectos para dónde quiero que vayan colocados.
Quatrième édition du SALPIN menée par Cashotte. J'ai fait un pinkeep, comme d'autres ocasions, parce que c'est une finnition très bonne pour accrocher au sapin ( au moins, à mon sapin )

En esta ocasión, se trata de un modelo bastante antiguo de EEF, llamado Christmas to Remember y,ciertamente, más parece un diseño de Blue Ribbon Desings.

Il s'agit d'un ancien modèle de EEF "Christmas to Remember", qui ressemble un modèle de Blue Ribbon Desings, n'est-ce pas ???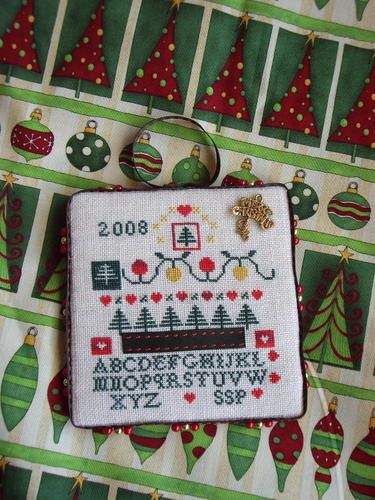 He transformado completamente el original, sobretodo en los colores, para darle un toque más navideño, más barroco si queréis y lo he personalizado con mis iniciales y con el año en curso.La tela que veis detrás es laque va en la parte posterior, también muy alegre....

J'ai transformé completement l'original, pour lui donner une touche plus Noël, plus baroque si vous voulez et je l'ai personalisé avec l'année en cours et mes innitiales. La toile du fond c'est laquelle j'ai utilisé pour le verso.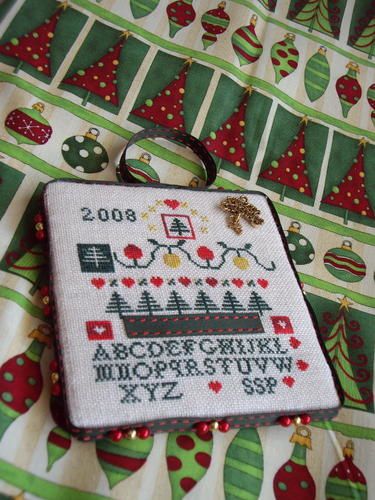 La cinta es de Mokuba y, podéis apreciar que he pegado un trocito de la misma en en centro del pinkeep ( en el original había unos números que no me convencían mucho ). También he combinado alfileres dorados y rojos...los adornos de Navidad tienen que ser lucidos !!!!.

Le ruban Mokuba ( j'en ai posé un petit morceau au devant ) et les épingles rouges et dorés font le reste !
En la parte superior he eliminado una parte del bordado y he puesto un charm muy adecuado para desear a todo el mundo Feliz Navidad !!!.



À droite, j'ai suprimé une partie de la broderie pour pouvoir accrocher ce joli charm qui souhaite Merry Christmas !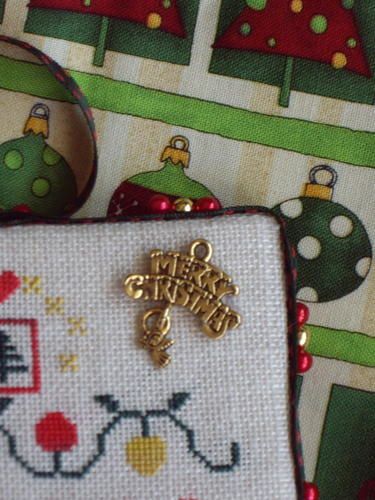 Y, por si os apetece ver el original ( aviso que no se parece en NADA ).



Et, si vous voulez voir l'original ....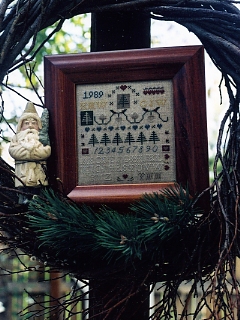 Sílvia